Hamilton Beach Coffee Maker

---
  Best Coffee Maker Reviews



---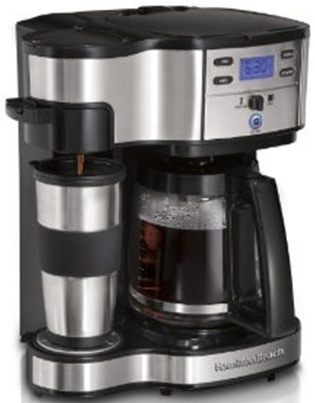 Hamilton Beach Two Way Brewer Single Serve and 12-cup Coffee Maker

Hamilton Beach coffee maker is a two way brewer,single serve and 12 cup coffee maker all in one.This affordable, low maintenance coffee maker brings convenience, simplicity, options and class to the table.

So whether you just want a standard cup size or a travel mug all you have to do is switch to single serve side. If you're entertaining guests simply switch to the 12 cup capacity size carafe side and watch this amazing two way brewer go to work to make you 12 cups of coffee pot in less than four minutes. How about that for options?


Also the Hamilton Beach coffee maker gives you the option to quickly drop a pre-packaged and flavored soft pod to the pod holder. This gives you the convenience to brew any brand of coffee that is if you don't want the messy grinds or measuring and scooping. The soft pods coffee brands are easily available at local coffee grocery stores. Note however K-cup packs are not compatible with this 12 Cup Coffee Maker unit.

One Side Affair...

Although this single serve coffee maker unit can only brew one side at a time, yes one side.... you  will agree with me without a doubt that this stainless steel two way brewer is a must have for every home given the gourmet service,option and appeal it provides at a fraction of the standard price.
With programmable settings  that come equipped with this 12 Cup Coffee Maker unit you can brew in advance and wake up in the morning to a hot cup of coffee.
But if you're one of those like me who prefer to roast their beans this Coffee Maker come with a brew strength selector where you can either choose regular for standard, medium grind coffee or select bold decaf for finer grind or premium roast brand such us Starbucks or Mellita for richer flavor.
Word of advice: Because a lot of factors can affect the freshness of ground coffee i.e heat, oxygen, moisture & light, you need to grind only individual portions to brew. According to research whole bean coffee stays fresh for longer than ground coffee.
To get a clear HD picture of this single serve coffee maker let's list this beneficial features to make it easy for you to make up your mind.
Listed Product Feature For Easy Reference

---
1:Two Brewing Option: Either you can use the soft pods-these are pre-packaged, pre-flavored pods that allow you to brew your brand of coffee. If you prefer loose ground coffee this 12 Cup Coffee Maker is your choice

---
2:Brew Strength Selector: Roast your beans with this feature. It gives you the  choice to choose either regular for medium ground coffee or finer or premium roast brand.

---
3:Two Way Brewer: Two in one mode so whether you just want a cup or cups after cups it depends on your convenience. If so go for this unit.

---
4:Two Water Reservoir: One for the single serve side and the other for carafe side with extra large capacity and a measuring markings.

---
5:12 Cup: The 12 cup capacity carafe will serve your large family well plus the added advantage of the two way convenience coffee on the go becomes a reality. 

---
6:Fully Programmable: Clock and timer allows you to set the brewer for your ideal  coffee drinking time.
---
7:Stainless Steel: Hamilton Beach coffee makers come with a 14oz travel mug with lid and a 12cup glass carafe is included.


Ratings of 9.4/10

This particular brand of Hamilton Beach coffee maker passed with flying colors. According to user reviews I found while doing my research of this Single Serve Coffee Maker, the rating is based on customer satisfaction in regard to performance, quality and durability.