Best Coffee Maker Reviews



---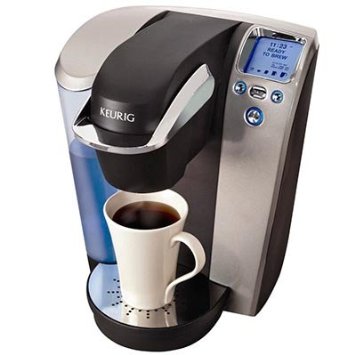 Keurig Platinum B70 Brewing System.
Regardless of the model the technology behind all Keurig coffee maker is the same. The B70 model injects steaming hot water into the proportioned Keurig coffee K Cups that comes with its own filter giving you great tasting cup of coffee.
 
 There are over 200 different Keurig coffee k cups to choose from so you will not run out of choice with flavors and brews anytime soon.

 Ideally made and designed for homes, this system has five choices of cup sizes unlike the popular Keurig B60 coffee maker which has three. This one has the following five cup sizes: the 4oz, 6oz, 8oz, 10oz, and 12oz respectively.

It comes with a blue lit water reservoir that can hold up to ten cups without refilling and allowing for easy cleaning and maintenance. Check this out, its equipped with a quiet technology wired into it. This is a cool feature as the last thing you want is to wake everyone at home especially if you have little children.

Its fitted with an auto on/off feature that goes along way to save your energy.

A Brewer Every One Must Have





Keurig B70 Platinum

Let's recap and summarize this beneficial features or if you like you can call them pro's. We'll deals with the con's in a bit.
The Keurig B70 Brewer programmable system allows you to set the temperature of the water, set the digital timer and choose your cup size. With the blue lit LCD display you can program all this to brew your favorite beverage per your desired time.

With 1500w voltage of 120 vac/60hz this machine has the power to do the job. It weighs around 2 pounds.
 
 Quality comes standard with all Keurig products. The look and feel has been taken care of and this piece will look great in any kitchen counter.

Keurig B70 Platinum Pro's

1.Come Fully Programmable.                                                  

2.Has Five Choices Of Cup Size.
3.Equipped With A Quiet Technology To Curb Noise. 

4.Removable 60 Ounce Water Reservoir Hold Up To 10 Cups.                    

5.Removable Trip Tray Allowing The Use Of Travel Mug.                       

6.Descale Indicator                                                         

7.Over 200 K-Cups Flavors.                                                   

8.Beautiful Look And Feel Design.                                             

9.Easy To Use                                                              

10.One Minute Brew.                                                                                                                                                                  


Keurig B70 Platinum Con's

1.Some Users Experience Pump Breakdown.                                     

2.On/Off Switch Located On The Back Of The Machine.                         

3.K-Cups Not Easily Found In Store.(Suggestion:Get Them Cheaply At Amazon)     

Overall Rating: 8.7/10

The Platinum Brewing System is Keurig's best single-cup brewing system. By the time of publishing this brewer was enjoying a favorable rating.