Capresso Coffee Maker 

  Best Coffee Maker Reviews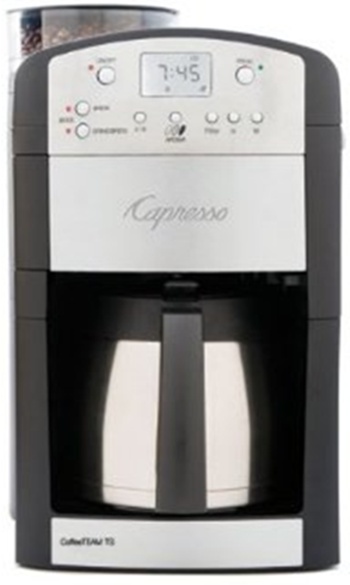 Capresso

Coffee TEAM TS Coffee Maker and Grinder Combo With Thermal Carafe


If you are excited by the prospect of a burr grinder then Capresso coffee maker is the brewer  for you as it will serve you well. The in-built burr grinder spins at a lower speed thus reducing or imparting less heat and preserving more aroma than blade grinding.

And yes you don't have to worry about your cat running for cover because of the noise when you press the power button to grind the beans like some brands do... of course there  is still some noise but of a lower frequency ( noise volume is low)


Easy Cleaning

And if you shiver from the thought of cleaning seven or more parts of your coffee maker every time you brew them you will be pleasantly relieved to find out that you only need to clean 4 parts, 3 if you use a paper filter. This machine is super easy to clean.

There are two models of this Capresso Coffee Maker but same functions.The favorite one with a stainless steel thermal carafe, the other with a glass carafe.
It easy to see why people prefer the thermal carafe, their tend to keep your coffee hot for a long time without compromising the flavor of your brew due to their insulated double thermal carafe, whereas the heating plate that comes with the glass carafe designed to keep your coffee warm tend to overcook your coffee thus producing the burnt taste.
 I think it makes a lot of sense to buy the thermal one. But the choice is yours according to your lifestyle and needs. This Brewer has a good 6 ounce bean hopper, that's almost half a pound of coffee bean.I like Capresso Coffee Maker because this machine lets you grind only what you want.
That means if you want to grind for two cups only, then all you have to do is program it to grind for two. That saves time and it's advisable to grind small individual potions because ground coffee loses it freshness faster because of natural elements such as light, moisture, heat than whole bean coffee which stays fresh for a longer time when stored at ideal room temperature.

Bells & Whistles

Although the brewer is fully programmable  with an LCD display digital control panel plus clock and timer not forgetting the brew pause function, this coffee maker has a manual function for those who shy away from technology.
You can select from  4, 6,  8 or 10 cup. Select the strength of your brew with choices ranging from mild, regular or strong. Before i forget it's important to point out here that this machine is user friendly.
If you're for burr grinder machines you'll love this one. It gives you the choice to grind your coffee beans in five stages or settings.

 How About That For Choices!

This particular Capresso coffee maker model gives you enough playground to sample with different settings to perfect the choice of your coffee flavor.

Another important point to consider whenever you're shopping for a coffee maker is to always check out the one with a charcoal water filter. What this does is it removes up to 90% of chlorine and other impurities and removes bad odors from tap water thus making sure the water you use to brew your coffee is pure in return giving you a great tasting coffee experience.
Over 200 degrees F brew and  up to 180 degrees F of coffee temp in the thermal carafe after brewing that piping hot coffee. Remember you don't have to wait for the coffee maker to finish brewing 10 cups of coffee as you can quickly sneak a cup of coffee with the brew pause function.