---
  Best Coffee Maker Reviews



---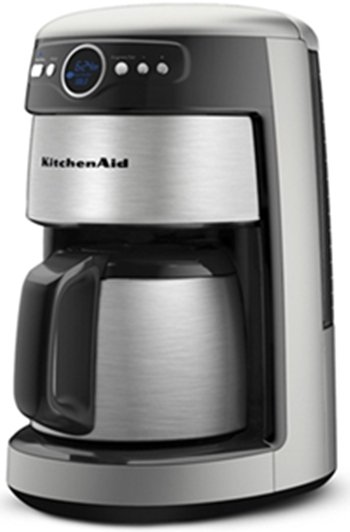 KitchenAid 12-Cup Thermal Carafe Coffee Maker

When I first encountered the KitchenAid coffee maker I fell in love with the looks. I commend the manufacturer for going an extra mile to create this well thought out designed coffee maker, with its unique looks and variety of colors to choose. You will never be limited for options. Okay, enough with the looks.


Can It Produce Great Coffee? Does It Do What Its Supposed To Do?
I'll try and answer this question by saying this: We know great coffee cannot be delivered by great looks. Yes, looks are important and have their place especially on your kitchen counter; you want a machine that will look good and complement your interior decor.
But in order to get great tasting coffee you need more. You need a machine that can perform; a good quality coffee maker.
That's where KitchenAid coffee maker comes in. It is capable of producing an enjoyable cup of coffee thanks to the high technology automated features integration.

So if you're tired with coffee makers that can't keep up with the technology then my friend you're in the right place.
If you're looking for bells & whistles then I am happy to report to you that your search has come to an end. I mean this coffee maker has all the convenience and luxuries to suit your lifestyle. Check this out; programmable setting, brew strength selector, thermal carafe with drip less spout, brew pause features. What more can you ask for..?
Programmable
Did I mention it has an automatic shut off function that allows you to set from 0-4 hours? The digital display with clock allows you to set the brewing time based upon your preferences.
What I like about this LCD display is its modern look. Its not as bright as some other coffee makers that will literally light-up your whole house, but its mild with a modern touch. And also not to be left out is the brew strength selector. With a touch of a button it allows you to select your preferred coffee flavor (regulator or bold)... How about that for options!
The brew and pause I mentioned earlier allows you to enjoy a cup of coffee mid-brew. You don't have to wait for complete brew time. This feature automatically optimizes the saturation time for maximum flavor when brewing small quantities. When your coffee is ready it has a three sound tone alert to let you know your brew is ready.
Easy Cleaning

The removable water reservoir is a plus. I mean surely you don't want to carry your whole machine to the water tap just to fill water or clean it. Other parts can be accessed easily for cleaning. Also included is clean alert that let's you know its about time to activate the self-cleaning cycle.
Functionality
The insulated 12 cup thermal carafe will keep your coffee hot for up to 3 hours. This coffee maker has the world's greatest drip less spout. You can't compare its spout with any other coffeemaker in the market.
It is  easy to operate and will not take you ages to know the dos and don'ts. Just set the coffee maker as per your desire and you'll find your coffee waiting for you when you wake up. 
This machine is the coffee connoisseur's best friend. A must have for those who love good things.


Listed Beneficial Features For Easy Reference.

 1.Programmable:You can set your brew strength and set your timing according to your desires. You can also set your shut-off function.

2.Brew Pause:This coffee maker gives you such flexibilities that its easy to grab a cup of coffee before the whole process of brewing is over.

3.Thermal Carafe:The drip less spout 12 cup capacity insulated thermal carafe makes sure your brew stays piping hot for long.

4.Easy to Clean:Removable parts makes it easy for you to do a general cleaning of your machine regularly without fuss. 

5.Removable water tank:This makes your brewing experience fun and enjoyable. You can fill water easily with clear makings to indicate water levels.

Overall Ratings 7.5/10