---
  Best Coffee Maker Reviews



---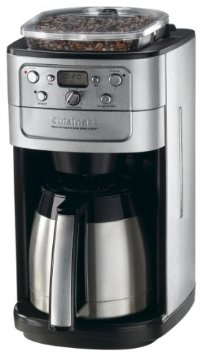 Cuisinart DGB-900BC 12-Cup Automatic Coffeemaker,
Anyone For Home Brewed Coffee?
 I love home made coffee. The first thing you'll notice with the Cuisinart DGB-900BC 12cup coffee maker is that apart from the great coffee it produces, your coffee is still piping hot even after you add your milk. It still remains hot. The second thing you'll notice is that the in-built burr grinder is a bit quieter and faster than most coffee maker. It has a grind control making it easy to program the amount of coffee to grind from 2 cups  upto the maximum 12 cups. And check this out, it has a grind-off option so you can set off the grinder function, making this grind and brew coffee maker stand out from the crowd.


You can do all this by pressing a few buttons here and there. However, you can't set the level!! Sounds confusing? You can set the amount but not the level of grind. Cuisinart DGB-900BC comes preset to medium grind for your benefit.....

Why? You Might Ask?
The grind of coffee is critical for perfect flavor extraction. There are two extremes here - if the grind is too fine, over extractions and bitterness will result. If the grind is too coarse the water will pass through quickly thus limiting the desired flavors. Also there will be a lot of coffee wasted.  That is why the machine comes preset to medium, just the right and optimal grind for that perfect cup of coffee.
Complexity?
With elegant brushed stainless steel design this one of a kind coffee maker comes fully automatic equipped with what modern technology has to offer.
 Technology is a great thing but it can be a two edged sword as well. If programming options and buttons are leaving you more frustrated, it may result in you making errors and therefore you might have a negative perspective on this machine....... 
And out of experience, I have found this to be true. Most negative reviews about this machine or any other out there are because people don't follow instructions or are intimidated by technology. For example, one negative review I found said you can't program the strength of your brew  with this machine and yet this coffee maker has a strength selector where you can select either strong, medium or mild.

Rest assured this coffeemaker is easy to use so don't be moved or swayed by all the negative reviews out there. Most of them don't have a clue what they're talking about.
Another interesting feature is the bean hopper. It can hold a lot of beans; half a pound to be exact and comes with a sealed lid. This is to prevent moisture loss.
As I said earlier with Cuisinart DGB-900BC the latest technology is integrated in this machine. It comes 24 hour fully programmable and it is equipped with shut-off after brewing. Also you can brew 2 to 4 cups of coffee and if you want to sneak in a cup mid-brew the brew pause function will come in handy.

Since you cannot tell the quality of  the tap water the company made sure to include a charcoal water filter to remove impurities such as chlorine and bad odors. It has a permanent gold tone commercial styled filter.
Last but not least, to keep your coffee hot a 12 cup capacity double walled thermal carafe comes with this piece. Included also is a 3 year limited warranty.