---
  Best Coffee Maker Reviews



---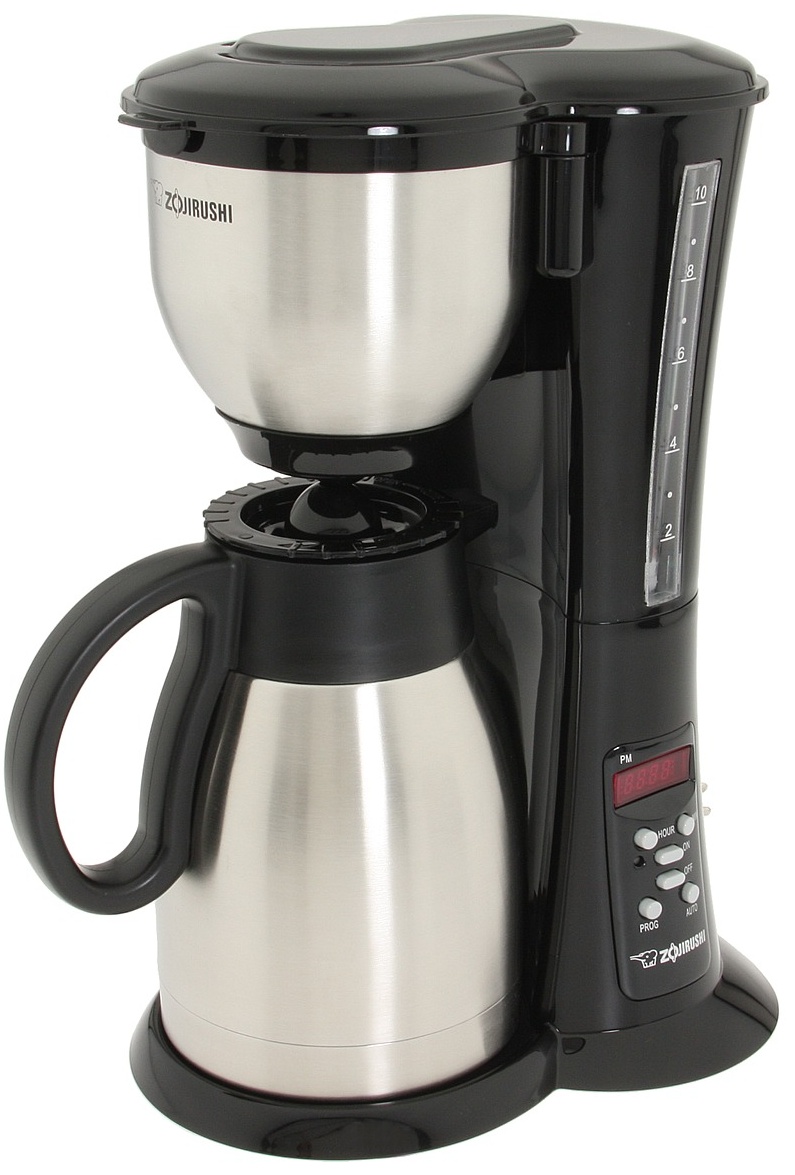 Zojirushi EC-BD15BA Fresh Brew Thermal Carafe Coffee Maker

If you're looking for a machine with bell & whistles then this Zojirushi coffee maker will serve you well. 10 cup capacity water reservoir, stainless-steel thermal carafe, programmable settings, pause and serve, auto shut-off and all. I mean everything modern technology in coffee machines has to offer is found within this automatic Zojirushi coffee maker.


Quality and Capacity
Although the company says the Zojirushi fresh brew coffee maker is a 10 cup, I beg to differ.Yes, its capable of producing ten cups but this will greatly depend with your cup size.Get my point, its also capable of heating the water to brewing temperatures of 180-190 degrees.With over 90 years in operations and driven by their philosophy

to improve customers quality of life through creation of innovative products I must admit  the Zojirushi corporation has come a long way and gained great experience which is reflected by their good quality Zojirushi coffee maker.
This coffee maker raved for it's functionality,  performance, and the ability to produce great tasting and flavorful coffee is not just artistically made but gorgeous and will look great in any kitchen counter.
It comes with a double walled 10 cup insulated thermal carafe that keeps your coffee hot for long.
Please note, to keep your brew hot during serving shut the thermal lid all the way to prevent heat from escaping. The advantage of coffee makers with thermal carafe is that it does away with the problem associated with heater plates which tends to burn your coffee when left on the heating base for a long time.
My advice is if you have a glass carafe and you've been experiencing the burnt taste try and brew a small portion of brew according to your need.
Cleaning Made Easy

Its very easy and fun to clean. When you're cleaning this unit use a solution of white vinegar and water. Follow the instructions in the booklet included. To maintain and preserve the stainless steel exterior look don't use abrasive or scouring pads. You can clean the removable filter with clean soapy water then rinse thoroughly with a lot of water. 

A bit taller than most coffee makers it measures 15 by 12 inches. As you can see from the image on the right the top cover flips open back to its hinges, so plan for its destination placement (a place at home) carefully before buying it. An open counter where the kitchen drawers are far between would be the ideal place.

Programmable Settings

With a state of the art programmable settings you can do your commanding here. You can set this brewer to brew your coffee at a specified time or preset time just with a touch of a button. The brew pause feature makes it possible for you to enjoy a cup of coffee mid brew. Also included is the auto shut off, if you preset this function you will not have to worry in case of leaving or forgetting to turn off your coffee maker.

Functionality
What I like most about this Zojirushi coffee maker is the ability to pour where its supposed to and not all over the counter or on your coffee table. Also, the water reservoir has a wide opening making it fun to fill your water and it has been made in such a way that its easy for you to read the water level gauge and remember you will need the No. 4 cone filter

Some negative reviews about coffee makers in general that I have encountered during my research is that, modern programmable features do present some challenges to folks  who are not tech savvy. but good news is that...
You will not take ages getting to know each other. As a matter of fact the Zoji as many like to call this unit is user friendly and will take you no time to know how to operate it.
To get the best out of this coffee maker in terms of coffee flavor use finer ground coffee then put enough coffee for example for 6oz of water put 1 3/4 or 2 scoops depending on your preferences.
Now sit back, grab your magazine or newspaper and enjoy your coffee.

For Easy Reference Here is A List of Benefits.

1.Thermal Carafe: A ten cup or 1.5 liter stainless steel thermal carafe ensures your brew stays hot for long.

2.Programmable Setting: With an LCD display you can preset this coffee maker to suit your timing preferences to brew your coffee plus set shut-off time. 

3.Brew and Pause: This function allows you to sneak in a cup of coffee mid brew, for 30 seconds the flow of coffee is stopped to allow you to serve a cup.  

4.Easy to Clean: Cleaning has never been made so easy, with Zojirushi most parts are removable making it easy to clean this unit.

Overall Rating 9.2/10


Out of 1227 customers interviewed 908 gave the Zojirushi coffee maker an outstanding review. 193 had no comment at the time of the interview while the rest had minor issues to raise. For example one had a problem with the screw top of the carafe being tight. Also the one year warranty seems to bother some folks saying it was too short but overall you get a very good machine in terms of performance, durability and quality.