---
  Best Coffee Maker Reviews



---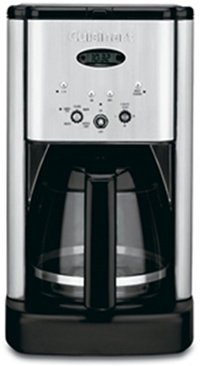 Cuisinart DCC-1200 Brew Central 12-Cup Programmable Coffeemaker





A Little Cuisinart History



Conair Corporation the makers of Cuisinart Coffee Maker - Dcc-1200 and "other makers" in pursuit to help consumers savor the good life has come a long way since they took over management in 1989. This prestigious award winning company saw the food processor as a quick and easy way to make fine food and healthy dishes.
It has taken the food processor to new high levels. The prestigious company is not limited to food processors. The company is a full-service culinary resource with a wide array of products such us Bake ware, Blenders, Coffee makers etc.
I bet the late Cuisinart founder Carl Sontheimer (God rest his soul) would be proud of what he started.


1:Cuisinart DCC-1200 Brew Central Coffeemaker
 Sure! Like most of us you might be hesitant to spend so much on a coffee maker given you can get other brands of coffee makers for under $25.
But if a good cup of coffee together with performance, durability and quality of your machine is more important to you than the price, then I am happy to tell you that when you invest on this particular Cuisinart Coffee Maker, that my friend will be money well spent.
The revolutionary classic look DCC-1200 12 cup coffee maker is truly a masterpiece, a work of art from its stylish design to its performance.
It comes loaded with the latest high technology features such us programmable digital clock with 24 hour advanced-brew setting, an automatic shutoff, self cleaning feature just to mention a few.

Handling
I like this feature for comfortable dripless pouring. This Brew Central Coffeemaker comes with an ergonomic handle, the last thing you want is a messy coffee     table.And as if that's not enough they included a brew pause to  let you enjoy a cup of coffee before the brewing process has finished.
And when it does finish brewing don't worry about your coffee getting cold. The company has sorted you out because this Cuisinart coffee maker brand comes with a heater plate with low, medium and high setting to ensure your coffee stays at your preferred temperature.
Anyone For Good Tasting Coffee?

Check this out! The company standing behind their motto to help consumers savor the good life, made sure you savor good tasting coffee. That's why they threw in a charcoal water filter to ensure the water you use to brew coffee is pure, free from impurities such as chlorine, calcium and bad odor from tap water to give you that great tasting coffee.


Varieties Of Colors To Choose From

To make sure you have the right match to flow with your decor or liking this particular brand of Cuisinart Coffee maker comes in this colors.

Score Card

According to Consumer Report (an expert, independent, nonprofit organization) test programme result it gave the Cuisinart Coffee Maker - Dcc-1200 a clean bill of health rated on multiple criteria such as performance,convenience and handling. It passed with flying colors.
1:Listed Beneficial Features For Easy Reference 
1:Programmable: The advanced programmable setting ensures 24 hour brew start, programmable auto shut off from 0-4 hour and a 1 to 4 cup setting when you want less than 5 cups.

---
2:Self Cleaning Settings: This feature let you know it's time to clean up and removes build up calcification from water thus extending the life of your coffee maker.

---
3:Water Reservoir: It has a reservoir cover that flips back allowing for easy filling. When filling water refer to the carafe height marking and fill as per your desire.

---
4:Charcoal Water Filter: It ensures removal of impurities such us chlorine,calcium, bad odors from tap water to give you that great tasting coffee. 

---
5:Brew Pause: This feature stops the flow of coffee when the carafe is removed allowing you to  enjoy a cup of coffee before brewing has finished.

---
6:Shower Head: This feature ensures water is distributed evenly over coffee thus reducing temperature loss as water passes through grounds.

---
7:Carafe: A stainless classic 12 cup carafe with ergonomic handle, drip-less spout and knuckle guard come with this piece.

---
8:Heater Plate: This is for coffee temperature control. It has three choices of setting; high,medium and low.

---
9:LCD Display: Displays time of the day and sets time for automatic functions.  

---
10:Ready Tone: It lets you know that your brew is ready with five beeps. 

Overall Rating: 9/10
Customers were happy across the board and gave the Cuisinart  brew central a rating that it deserved.  I believe once you have a first hand experience you will too. I highly recommend this Cuisinart Coffee Maker brand.

---