Bonavita Coffee Maker

  Best Coffee Maker Reviews



Bonavita BV1800 8-Cup Coffee Maker

Can Bonavita coffee maker deliver? Is it the right one for me ? This might be the question on your mind right now. As a coffee lover you basically want a coffee maker that can brew you the perfect coffee and that is affordable. I am here to tell you that this drip coffee maker can not only deliver but its also cheap and can make exceptionally great coffee.
 Specialty Coffee Association of America (SCAA) certified this coffee maker and gave it a clean bill of health for quality and performance. This Germany engineered coffee maker with 1400 watt heater under its  belt  is capable of raising the water temp to the ideal brewing standards of 205 degrees f/96 degrees c quickly and efficiently and the thermal carafe keeps your brew hotter and longer.

  For the optimal brew the Bonavita coffee maker has been engineered for precise water and coffee ground contact time along with a shower head designed for complete coffee ground saturation and optimal extraction.The specification for this machine is truly a state of the art and a performance record that cannot be matched with other ordinary coffee maker. And speaking of performance it can brew 8 cups (5 oz cup size) in just 5-6 minutes. Wow! That's a fast brewing time.

 It has an easy to feel water tank  with wide opening and clear marking for exact filling. Also included is a trigger lid designed for easy one  handed pouring with thermal carafe lid on, you just use your thumb to pour.

 And finally this reasonably priced, compact size drip home coffee maker is UL certified for safety compliance and comes with a 2 year manufacturer's warranty. Also comes with a glass carafe as shown in the image below and is easy to clean.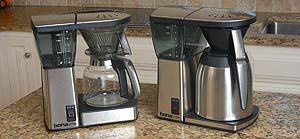 Listed Specification For Easy Reference

1:A filter basket comes with this model. Allows for easy filling, brewing, and cleaning.

---
2:The carafe has trigger lid designed for one hand pouring with thermal lid still on.

---
3:Engineered for precise water and coffee ground contact time for optimal brew.

---
4:High quality stainless steel modern design makes it look good in any kitchen.

---
5:Comes with a shower head for complete saturation and optimal extraction.

---
6:Brew time capable of making 8 cups of 5 oz cup sizes in 5-6 minutes.

---
7:Designed with a 1400 watt heater that rises to ideal temperature.

---
8:Carafe available in two carafe designs glass and  thermal carafe.

---
9:Easy to fill the tank with its wide opening.     


Conclusion.
When Germans first created this Bonavita coffee maker I believe they had simplicity and convenience in mind. I hope I have answered your questions above and hopefully by reading this reviews you found it helpful and have some ideas on the best coffee maker.